May 4 – 6, 2017
University of British Columbia
Vancouver Campus
Ponderosa Commons Oak/Cedar House
Individual Paper Submissions: http://edst.educ.ubc.ca/individual-paper-proposals
Panel Proposal Submissions: http://edst.educ.ubc.ca/panel-proposals
Registration and Payment: http://pdce-educ-payportal.sites.olt.ubc.ca/2017-iccse-registration/
Fees and registration types:
Registration fee: $150 CAD
Registration fee for one day attendance (public: non-presenting and non-academic only): $80 CAD
Registration fee for Students and Staff: $50 CAD
Method of payment: major credit card only
Contact: culturalstudies.conference@ubc.ca
Information for Participants
(additional information forthcoming)
KEYNOTES:
Patti Lather (Professor Emerita, Ohio State University).  "Theorizing Cultural Studies of Education:  Post (Foundationalist) Promises, Lost Subjects and Tiny Optimisms."
Abstract: This paper addresses 1) the terms in use across the cross-disciplinary fields of curriculum studies, foundational studies and cultural studies of education in terms of "keeping up" with the never-ending turns in academic theory, and 2) where the attention to difference lies under the signs of these cross-disciplinary fields. To explore the latter, I focus on the dominant analytic for looking at difference these days, at least in women's studies: intersectionality theory. To this end, i advance a tiny critical genealogy that traces the journey of intersectionality toward a kind of "small hegemony" in multicultural analysis, allowing for the messiness of identity and addressing the paradoxes that have arisen across its applications. I conclude with a note on what it means to theorize in precarious times where the fantasies we are used to have lost their purchase. In the struggle toward attachments that can sustain us in living out our relation to the loss of what is not working, this is a queer sort of strategy that recognizes we are worn out by the promises we have attached to our attachments and their failures to deliver.


Bio: Since retiring in July, 2014, Dr. Patti Lather is Professor Emerita in Educational Studies at Ohio State University with courtesy professor appointments in the Departments of Women's, Gender and Sexuality Studies and Comparative Studies at Ohio State. Beginning in 1988, Dr. Lather taught qualitative research, feminist methodology and gender and education at Ohio State University. Her articles on feminist methodology, qualitative research and gender and education are published in leading disciplinary and interdisciplinary journals. She has authored five books: Getting Smart: Feminist Research and Pedagogy With/in the Postmodern (1991 Critics Choice Award), Troubling the Angels: Women Living with HIV/AIDS, co-authored with Chris Smithies (1998 CHOICE Outstanding Academic Title), Getting Lost: Feminist Efforts Toward a Double(d) Science (2008 Critics Choice Award), Engaging (Social) Science: Policy from the Side of the Messy (2011 Critics Choice Award), and (Post)Critical Methodologies: The Science Possible After the Critiques: The Selected Work of Patti Lather, Routledge, 2017. Her current research is focused around cultural studies of numeracy and the uses of Walter Benjamin in a materialist cultural analysis of sports and U.S. schooling.

Dr. Lather has lectured widely in international and national contexts and held a number of distinguished visiting lectureships. She has held visiting positions at the University of British Columbia, Goteborg University, York University, and the Danish Pedagogy Institute as well as a 1995 sabbatical appointment, Humanities Research Institute, University of California-Irvine, seminar on feminist research methodology. She was the recipient of a 1989 Fulbright to New Zealand and a 1993 OSU Alumni Award for Distinguished Teaching. She is a 2009 inductee of the American Educational Research Association Fellows, a 2010 recipient of the AERA Division B Lifetime Achievement Award and a 2015 recipient of the International Congress of Qualitative Inquiry Lifetime Achievement Award. Dr. Lather received her BA in English from South Dakota State University (1970), her MA in American Studies from Purdue (1972), and her Ph.D. in Curriculum and Instruction from Indiana University (1983). Prior to OSU, she taught for five years in women's studies at Mankato State University.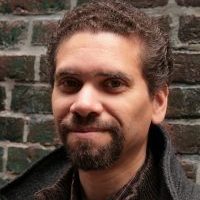 Wayde Compton (Associate Director, Creative Writing, Simon Fraser University). "Black Public Intellectuals in British Columbia: Two Centuries, Four Visions."
Wayde Compton is the author of books of fiction, non-fiction, and poetry, and the editor of two anthologies. Three of his books – The Outer Harbour (Arsenal Pulp, 2014), After Canaan: Essays on Race, Writing, and Region (Arsenal Pulp, 2010), and The Revolving City: 51 Poems and the Stories Behind Them (Anvil-SFU Public Square, 2015) – were finalists for the City of Vancouver Book Award, and the former won in 2015. His book 49th Parallel Psalm (Arsenal Pulp, 1999) was a finalist for the Dorothy Livesay Prize. Compton is the associate director of Creative Writing in Continuing Studies at Simon Fraser University, where he administrates the Writer's Studio.
Plenary Session 1
The Institutionalization of Cultural Studies (University of Washington MA in Cultural Studies; University of British Columbia, Okanagan, BA in Cultural Studies)
Susan Harewood

, Associate Professor and Director of Cultural Studies, School of Interdisciplinary Arts & Sciences, University of Washington Bothell

Bio:

Dr. Susan Harewood is the current Director of the MA in Cultural Studies program at the University of Washington Bothell. She is an Associate Professor in the School of Interdisciplinary Arts and Sciences and teaches within cultural studies, media and communication studies, and global studies. Her research focuses on music and critical media practices in the Caribbean and its diasporas. Her current research examines the formation of regional media institutions in the period leading up to and immediately following constitutional independence in the English speaking Caribbean.

https://www.uwb.edu/ias/faculty-and-staff/susan-harewood

Title of Presentation: Taking Praxis Seriously: Testing the Limits of Praxis and the University (co-presentation with Rob Krabill, see below for abstract)

Ron Krabill

, Associate Professor, School of Interdisciplinary Arts & Sciences, University of Washington Bothell

Bio: Dr. Ron Krabill is an Associate Professor in the School of Interdisciplinary Arts & Sciences, where he is also the former director of the MA in Cultural Studies program and the former Associate Dean for Graduate Education. His research examines discourses of global citizenship in higher education, the relationships between politics and media with a particular focus on South Africa, and critical, community-based pedagogies in media production. He teaches across cultural studies, media studies, African studies, and human rights, and has led study abroad programs to South Africa, Spain, and Tanzania. He is the author of Starring Mandela and Cosby: Media and the End(s) of Apartheid (Chicago, 2010), is a co-principle investigator in a major two-year grant developing Collaborative Online International Learning (COIL) projects and pedagogies across the three campuses of the University of Washington, and is a past recipient of the University of Washington Distinguished Teaching Award.
Title of Presentation: Taking Praxis Seriously: Testing the Limits of Praxis and the University (co-presentation with Susan Harewood)

Abstract: Based on our work building a new MA in Cultural Studies program at the University of Washington Bothell over the past decade, we explore the challenges generated by cultural studies' explicit desire to look beyond the intellectual and political boundaries of the university. Stuart Hall (1992) and many others have worried about cultural studies' complicated position within the university. We seek to continue this practice of worrying at the knots that tie cultural studies to universities' traditions, with their roots in imperialism and its attendant practices of ordering humanity.

Our experiences as faculty developing the MA in Cultural Studies at UWB have highlighted consistently four challenging contradictions. First, cultural studies' emphasis on praxis, if taken seriously, demands a different curricular structure, a change in the timing of the educational process, and alternative notions of 'outputs' when compared to traditional degrees. Second, cultural studies' emphasis on examining power relations in everyday life inevitably shines a discomfiting light on the power relations that operate within the university and within the classroom. Third, cultural studies identifies itself as being open to non-academic epistemologies while simultaneously being embedded within an academic culture that emphasizes academic forms of knowledge making over others. Finally, a cultural studies program that takes seriously these contradictions will attract both students and faculty who understand themselves as broadly engaged in cultural struggle, which often means they have one foot in the academy but another outside it.

As a result, students and faculty alike often find themselves alienated from both the larger institutional structures within which they work, and from the activist, arts-based, or community-based organizations from which they come. Given these tensions, what should a university-based cultural studies program promise to prospective students, faculty, and partner organizations? What is possible for such cultural studies programs to deliver, and what are the limitations imposed by the institutional structures in which they operate?

Ruthann Lee

, Assistant Professor, Cultural Studies, University of British Columbia, Okanagan


Bio: Ruthann Lee has Korean ancestry and currently resides on unceded syilx territory where she works as an Assistant Professor of Cultural Studies at the University of British Columbia Okanagan. Ruthann teaches about art and media activism and has published more broadly on Indigenous and diasporic relationships in the context of settler colonialism and late global capitalism. She is keen to build feminist, queer, trans, anti-racist, and Indigenous solidarity in Cultural Studies and beyond.
Title of Presentation: Politics of Identity and Difference in Cultural Studies: Strategies and Dilemmas

David Jefferess

, Associate Professor, Cultural Studies and English, University of British Columbia, Okanagan

Bio: David Jefferess lives in the traditional and unceded territory of the syilx people. He is a non-Indigenous scholar who teaches in the areas of decolonization and global inter-relationships. His current research focuses on humanitarian discourses and the particular ways in which they imagine social relations of power. He is a co-founder of the Cultural Studies program at UBC Okanagan.
Title of Presentation: Engaged Pedagogy and the Neoliberal University
Plenary Session 2
Black Arts: Performative Vancouver Cultural Studies (Vanessa Richards, Kevan "Scruffmouth" Cameron, Afuwa Granger, Henry Daniel, SFU, David Chariandy, SFU).
Conference program: to be announced

Additional Information
Air Travel:
The closest airport to UBC is Vancouver International Airport (YVR)
Ground Travel:
There are several options for you to easily get from Vancouver International Airport (YVR) to UBC and vice versa.
By public transport
The Canada Line skytrain runs from the airport to downtown Vancouver. The Canada Line does not go to UBC, but to get to UBC campus, get off at Broadway City Hall station and take the 99 bus to the end of the line. Depending on the day of the week and time you are leaving the airport, the cost of public transit from the airport ranges from $7.75 to $9.00.

By taxi
If you want to take a taxi, there is 24-hour taxi service from the airport. Taxis leaving the airport for destinations around the region use a set price zone fare system ($35 to UBC zone – tips not included).
By renting a car
Car rental companies are located just steps from the terminal on the ground floor of the airport's parkade.

Parking on Campus
Parking is available in various locations around the campus and it costs between $8-$14 per day. There are six parkades on campus: https://parking.ubc.ca/parkades .The closest parkade to the conference venue is the West Parkade (2140 Lower Mall).
Accommodation:
There are a variety of choices of accommodation at UBC campus [http://suitesatubc.com]
There are a variety of hotels, bed and breakfast options near UBC and beyond. The conference does not have specific arrangements with any and selections are at participants' discretion. Here is some information to locate potential accommodation in town:
Bed & Breakfast: price range $100-$150
https://www.bedandbreakfast.com/vancouver-british-columbia.html
Hotel chains: price range $150-$250
https://ca.hotels.com/de169712-ba/all-hotel-brands-in-vancouver-british-columbia/
Hotels in Richmond near the YVR airport: price range $200-$300
https://www.tripadvisor.ca/HotelsNear-g154943-qYVR-Vancouver_British_Columbia.html
Hotels in downtown Vancouver: price range $300-$400 up
https://www.expedia.ca/Downtown-Vancouver-Vancouver-Waterfront-Hotels.0-n6058432-0.Travel-Guide-Filter-Hotels
Restaurants:
There are several options for meals on UBC campus [http://www.food.ubc.ca/map/]. Major locations include the AMS Centre, University Village, and Wesbrook Village.
Beyond the UBC campus, there are many options in different areas of Vancouver [https://www.tourismvancouver.com/restaurants/]
Here are a few suggestions, varied by distance from UBC, and all with a variety of restaurants and choices of food:
Broadway area (20 minutes drive/30 minutes public transit from UBC)
Downtown area (30 minutes drive/45 minutes public transit from UBC)
Chinatown area (40 minutes drive/60 minutes public transit from UBC)
Here are a few options for vegetarian food:
http://boredinvancouver.com/listing/vegan-vegetarian-restaurants-in-vancouver/http://www.vancitybuzz.com/2015/08/best-vegan-restaurants-vancouver-2/
Weather:
In May, the average maximum daytime temperature in Vancouver could be around 17ºC / 64ºF. The BC coast's climate is the most moderate in Canada, but there is rain. It is good to prepare a range of clothing, including t-shirts, sweaters, light pants, heavy slacks. Dressing in layers is a good idea. Daytimes can be warm, but evenings can still be chilly.
City Attractions:
Vancouver is regularly rated as one of the most beautiful and livable cities in the world.
Ten must see attractions suggested by Tourism Vancouver:
Suspension Bridge / Vancouver Aquarium / Stanley Park Horse-Drawn Tours / Harbour Cruises & Events / FlyOver Canada / Vancouver Lookout / Dr. Sun Yat-Sen Classical Chinese Garden / Vancouver Art Gallery / Science World / Grouse Mountain
More information:
https://www.tourismvancouver.com/activities/attractions/10-must-see-attractions/Further information on the diverse neighbourhoods in Vancouver:
https://www.tourismvancouver.com/vancouver/neighbourhoods/