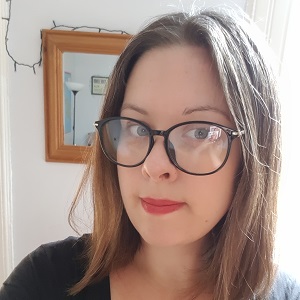 Pronouns
She/Her/Hers
---
Job Title
Director of Open Studies
---
Workplace
University of Edinburgh – Centre for Open Learning
---
EDST Degree/s and graduation year/s
MEd, 2016
---
Concentration
Adult Learning and Global Change (ALGC)
---
Residence
Edinburgh, UK
---
"I am an educator and manager at the University of Edinburgh's Centre for Open Learning in bonnie Scotland.
I have always had a passion for education and have been lucky to work across a number of HE institutions in diverse roles over the past 15 years. After graduating in 2008 with a degree in Sociology from St. FX University, I returned to my hometown of Halifax NS and started a position with the University of King's College in the Registrar's Office. In 2011 I taught English in Seoul South Korea and then joined the administrative team at the Nova Scotia Community College when I returned to Canada. It was during this time that I started the MED with UBC.
In 2015 my partner and I moved to England, and I started with the University of Southampton as their Wellbeing Coordinator which proved to be a rewarding and challenging position working to support student mental health. We moved yet again in 2017 to Scotland where I now work as the Director of Open Studies at the University of Edinburgh.
In my current position I manage a team of 120+ Teaching Fellows and academic colleagues. Our department is responsible for a wide range of local and global educational opportunities, including the International Foundation and Access programmes which help students gain entrance into undergraduate degrees, and a large lifelong learning programme that welcomes students of all ages to learn something new. As an adult learner myself when studying with UBC, I appreciate the powerful and positive impact that continued education can have throughout your life.
My UBC MED provided me with a strong foundation in adult learning which has helped me quickly progress from administrative roles to a senior leadership position at a globally recognized institution. I continue to look forward to new professional opportunities in Edinburgh, where I live with my husband Alistair, our newborn son Mac, and our little pup Moose."
LinkedIn: https://www.linkedin.com/in/kate-mchugh-1b3540b7/
---
Kate's Story
What gives you meaning and fulfillment in your work?
As the Director of Open Studies at the University of Edinburgh, I work with colleagues towards offering a number of programs for students from all types of backgrounds. This includes our Access Program, our International Foundation Program, and our Lifelong Learning courses. Whilst some days are filled with paperwork, meetings and committees, the joyful days are when I have the chance to spend time with students. At the Centre for Open Learning, you will often find students in our 'hallowed halls' who may never have thought that those halls were meant for them. This includes students who have travelled from around the world to Scotland as well as those who live down the street. I enjoy being part of the non-traditional part of the institution, which flings open the doors and removes barriers for students as best we can. Being a part of their learning journeys – whether it be to take the next step to an undergraduate degree, or to find community while they learn something new – is extremely fulfilling and makes all of the other parts of my role worth it.
Someone who seeks to work in your sector?
I have often said that working in University management and administration is a bit of a 'secret career'. It is not something you often think of as a young child when you picture your future working self, however it has been such a rewarding and exciting sector to work in, and is always full of unique opportunities. When I was working as an administrative and admissions assistant, after a few years I started to feel the need to grow and progress my career to the next level. I identified a number of women in the field who were successful in their areas, and arranged opportunities to speak with them about their own career paths. One element that became quickly apparent was a commonality in their backgrounds – the combination of concrete work experience alongside a M.ED. I already had a number of years of work under my belt, but the missing piece was the formal education to support my experiences. The M.ED (ALGC) program gave me exactly what I needed – confidence, contacts, and clarity. I realized that I had the abilities all along, but the program empowered me to use them wisely, whilst also giving me a credential for that next step up. Now, as a Director at the University of Edinburgh I know how important it is to have an open door to colleagues who may wish to speak about their career progression and opportunities, and am extremely grateful to the women in my past who did the same for me.
Tell us about any international work experience you embarked on during or after your program.
When I started my first year of the distance MED (Adult Learning & Global Change) I was working as an Administrative Assistant at a Community College in rural Nova Scotia. The following year my husband and I moved to the United Kingdom and I finished my degree from across the pond. Having gained a variety of new skills, confidence and knowledge from the program, I applied to a new type of job and found myself quickly propelled into exciting leadership roles at the University of Southampton, and finally the University of Edinburgh. Being able to reflect on my learning journey in a completely new setting allowed me the space to trust my own perspectives on international education and support students to succeed from around the world. I am lucky to be able to work with international students on a daily basis, and enjoy watching them broaden their horizons and thrive in their new surroundings as well.